Welcome to the NATIFLife Portal
This Portal is reserved to the NATIFLife Network
NATIFLife 

Network
Enjoy the network and take advantage from it!
Networking
Increasing Visibility, exchange of Best Practice among Stakeholders, Demand/Offer of Needs/Technology.
Developing Joint Research on innovative AT, also through the participation to research projects.
Training and Hands-On Sessions on Assistive Technology
Training  and Hands On Sessions on  Assistive Technology and User Centered Design.
Sharing R&D Labs Facilities
Sharing facilities and equipments to develop joint activities of industrial interest: Rapid Prototyping of wearable and  flexible  sensors,  Smart Sensing Embedded Systems, Robotic platforms.
Exploiting Living Labs
Assessment of Assistive Technologies by End-Users involvement.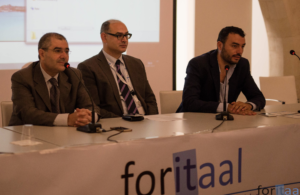 Events
ForItAAL is the annual event during which professionals, companies, policy makers, research institutions and universities discuss on the challenges of aging and demographic change, with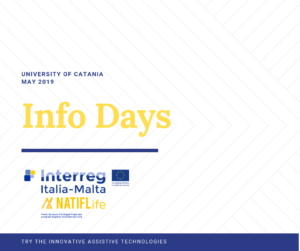 Events
In May 2019 the first of the two info days scheduled will be held in Catania. The event, which will last two days, will aim
Subscribe to our Newsletter
Two Living Labs will be arranged in Catania and Malta which will allow for User Centered Design and Testing of traditional and innovative Assistive Systems by End-Users involvement, as well as implementing dissemination and training activities.
Main solutions installed in the PDS will be related to
Assistive Domotics (facilitating and assisting the user in Daily Activities)
User status assessment
User habits monitoring
User-caregiver interaction